I love things that are handmade. I just think of the time and effort that has gone into making it so special. I know the many loving hours that it can take crocheting a blanket, designing jewellery or painting a picture. This weekend a friend and I ventured up to the big smoke (Perth), to visit a handmade market in Forrest Chase,
Made On The Left
. I like the name.. a lot! I love to try and support local, handmade artisans when I can. There are just so many talented people who are working really hard to make gorgeous hand crafted treasures, its really quite inspiring.
I picked up a couple of Christmas presents, and loved admiring the amazing work! Some that I will revisit when our house is finished, because I have nowhere to put too many lovely things yet, so I keep the in the back of my mind for later.
For now, I just oooh and ahh over these beautiful items, and (of course) share some of them with you!!
I bought one of these necklaces a few months back for a friends birthday from the Etsy shop, and she LOVED it! We are now both
Miscii's
biggest fans I'm sure! The colours and the geometric shapes have completely won me over, I could seriously buy everything here!
I am in awe of the the beautiful and intricate designs of Enid and Colin, a husband and wife team. Enid's embroidery is beautiful, such fine detail! And then the designs are also layered on plates, cake stands, brooches and little necklaces and more, just so gorgeous! I am a big fan! You can check out their Etsy Store
HERE
or Enid's blog
HERE
I didn't get pictures of my other favourites. (Sad face)
But I loved One Happy Leaf: here is a picture of one of their necklaces from their
Etsy
page.
The Silver Fox
, so cute!!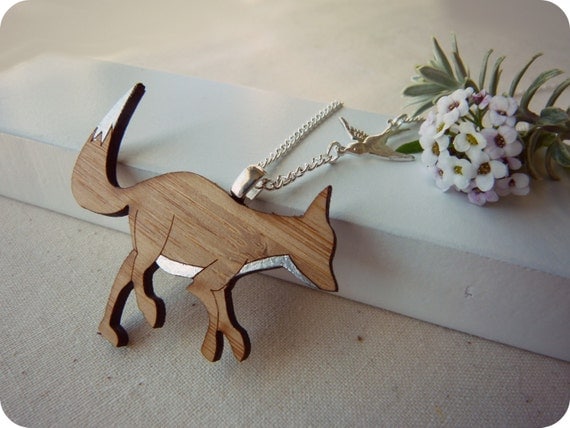 I almost bought something from the
Little Green Project
, but then thought I'd better wait until it can be placed in our permanent home, I wouldn't want to risk damaging it in the move! She makes lovely terrariums. Some in lovely vintage jars and some that you can hang. They are just really cute and quirky! See their facebook page
HERE
If you are in Perth, and you want to check out Made on The Left, there is another one, coming up on the 8th of December! Head to the website for more details!
HERE
Oh, I also had two icepoles!! They were delicious, and I didn't have to share!
So, do you love a handmade Christmas too?